Lieutenant General Lewis B. "Chesty" Puller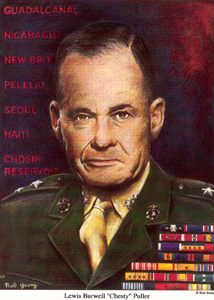 Lewis Burwell "Chesty" Puller (June 26, 1898 – October 11, 1971) was a United States Marine Corps lieutenant general and one of the most decorated members of the Marine Corps. Puller is the only Marine and one of two US servicemen to ever be awarded five Navy Crosses. He fought guerrillas in Haiti and Nicaragua, and participated in battles of World War II and the Korean War. Puller retired from the Marine Corps with 37 years service in 1955 and spent the remainder of his life living in Virginia.
Puller received the second highest U.S. military award six times: five Navy Crosses and one U.S. Army Distinguished Service Cross. He was the second of two US servicemen to ever receive five Navy Crosses; US Navy submarine commander Roy Milton Davenport was the first to receive five Navy Crosses.
Puller's military awards include:

Lt. Gen. "Chesty" Puller was a native of the Middle Peninsula having been born in West Point and lived in Saluda. He was also a parishioner of Christ Church Parish and is buried in our historic cemetery next to his wife Virginia Montague Evans.
Every year, on or around the Marine Corp birthday (November 10th), Marines from Fort Lee and the Naval Weapons Station York Town run in relays from Fort Lee and from Gloucester Point to Christ Church Parish to honor Lt. Gen. Chesty Puller and to celebrate the Marine Corp birthday. Below are YouTube videos of two these runs:
November 9, 2013
Bravo FAST Company
Naval Weapons Station, York Town, Virginia

October 24, 2014
Marines from Fort Lee Virginia
October 14, 2017
Memorial Ceremony in Honor and Remembrance of
Lt. General Lewis Burwell "Chesty" Puller
Chester Puller Remembered
by Charlie Bradshaw
Lt Gen Lewis "Chesty" Puller was "The Most Decorated United States Marine in American History". I knew he was from this part of Virginia because I have been driving down General Puller Highway for countless years on my way to our river home. I had assumed the most decorated Marine in history was resting in Arlington Cemetery, but I was wrong. His final resting place is in Christ Church Historical Cemetery, a few miles east of Saluda, Virginia. Upon learning this, I made a point of visiting the cemetery the following day. During my visit, I decided more people should know about our national hero. I returned a couple of days later and shot footage for this video. All Marines know of Chesty Puller. The first time I heard his name was my first day at OCS at Quantico. And now, 49 years following his death he is still revered by all Marines, current and former. One example is a 66 mile by Ft Lee Marines to the cemetery each October. For more information, visit: https://vimeo.com/353149697, https://www.dvidshub.net/image/4807532/fort-lee-marines-honor-chesty-pulller-with-64-mile-run-his-hometown In 2017, 398 Marines made the run: https://www.fortleetraveller.com/news/local_news/hero-s-tribute-nearly-marines-honor-lt-gen-chesty-puller/article_c3bd6a00-b449-11e7-aa70-a7a5f03d67db.html To learn more about Lt Gen Lewis W. "Chesty" Puller, visit the church's website: http://www.christchurchmiddlesex.com/Chesty-Puller/