Habitat for Humanity
New Home Construction of Regent Road
Thursday, June 13th and Friday, June 14th
9:00 AM – 1:00 PM
---
Jennifer & Charles Bagby
56 Christchurch Lane
Saluda, VA
›
Driving Directions
---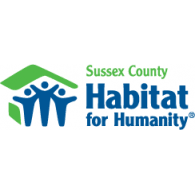 We have a unique opportunity to help a neighbor. Christ Church Parish will be working on building a house for a Middlesex neighbor, Jennifer and Charles Bagby, off of Regent Road, during the week of June 10th to the 14th. All members of Christ Church are welcome to participate. Hours of work are 9am to 1pm each day. There will be work for all, regardless of your skill level. You can work one day or every day, as your schedule permits.
Sign up now and become a part of this important ministry. We can use your helping hands. The sign-up sheets are on the bulletin board in the Parish Hall. Specific directions to site will be sent to each volunteer.
Did you know?
Habitat for Humanity is a Christian Ministry with the goal of eliminating substandard housing. Simple, decent and affordable homes are built, with a zero-interest mortgage on each home. Habitat is not a handout. The homeowners make mortgage, tax, and insurance payments, and help build their homes.